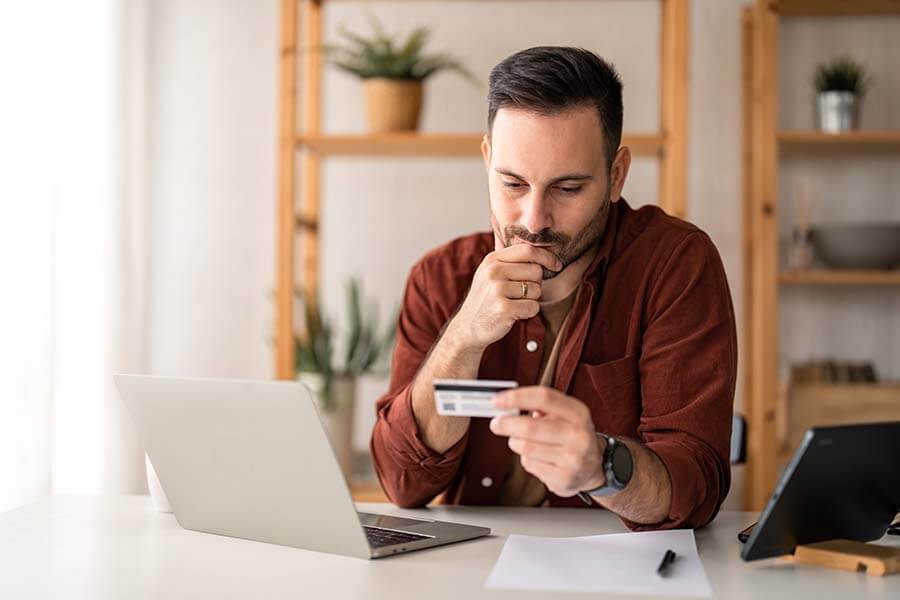 How to Transfer a Credit Card Balance in 9 Steps
How to Transfer a Credit Card Balance in 9 Steps
Savvy card users know moving their balances to a single card can help maximize rewards, reduce interest charges, and pay off their card sooner. Here's how to transfer credit card balances and when and why you should do it.
Card Sharp: How to Do a Credit Card Balance Transfer
Moving money from your existing credit cards to a newly-issued one can be a smart move if it makes it easier to pay down your balance with a better interest rate, lower fees, or more flexible payment terms. It can also come with benefits like a higher limit, sign-up bonuses, an interest-free introductory period, better rewards, or improved fraud and security features.
That said, transferring or consolidating money to a new card should not be used as a way to avoid tackling your credit card debt or to gain access to a higher limit so you can borrow more. We take a step-by-step look at how to tackle a credit card balance transfer the smart way and consider when it does—and does not—make sense to do so.
Before
Preparation is key to making the most of your credit card balance transfer.
1. Take Stock
There are some key questions you should ask yourself to evaluate your reasons for wanting a balance transfer. First, why are you considering a credit card balance transfer? Is it because you are looking to consolidate debts with a lower rate and a single monthly payment? Or are you looking for a lower rate, lower fees, or maybe better rewards?
Then you should think about how much you already own on your existing cards and if you will be able to pay down the balance transfer in the future, even at a lower rate. If you are spending too much already, how will you stop?
2. Check Your Credit Score
Take a hard look at your credit score. You'll need a reasonable-to-good score in order to qualify for a better interest rate or terms on your new card. If your score is low, get hold of your credit reports here and check for inaccuracies, missed payments, or unauthorized accounts. Pay off unpaid debt and correct these inaccuracies before applying for a new card.
3. Compare Offers
Now go shopping for a new card. Remember why you want a new card and choose what is most important to look for:
A higher limit
A lower annual percentage rate (APR)
Cashback or point rewards
A low or zero-interest introductory period or sign-up bonus for using the card
Look for low or zero fees on balance transfers, even for an introductory period because this can save you a lot of money if you are looking to consolidate two or more accounts. Don't forget to consider charges including annual, foreign transaction, and cash-advance fees. These can often cost you more than any rewards or bonuses you hoped to earn.
Also, consider where you get your card. While banks are the biggest issuers of credit cards, the staff at your local credit union will often be willing to take the time to better understand your needs and may be able to offer you a card with a lower rate or more useful rewards.
During
Once you've sorted out your credit score, identified a suitable card, and done your terms and conditions homework, it's time to do the card shuffle.
4. Apply
Apply for your new card either online or in person at your bank or credit union. You'll need to provide proof of identification, proof of address, and be willing to authorize a credit report check. You might have to provide some details about your income and any debts, including your existing card balances.
5. Transfer
Once your card has been issued, you most likely have up to three months to transfer balances into your account. You can transfer amounts from your existing cards by contacting each issuer by phone or online.
6. Confirm
Confirm the balances have been transferred within the introductory window by checking your statements or online balances and by following up with your existing card issuers. Be aware that transfers can take up to a month to go through, so be sure to keep making payments due on your old cards until the balances have been transferred over.
After
With your new card in your wallet and the balances on your old cards eliminated or significantly reduced, it's time to look to the future.
7. Make a Plan
Balance transfers are most effective when they are part of an overall plan to take care of your debt and manage your finances. Now is a great time to make and stick to a new budget, cancel unused memberships or subscriptions, and cut out frivolous spending.
8. Pay Your Debt
Above all, pay down the balance on your new card, even if you plan to use it for more spending. Be sure to take advantage of zero or low-interest introductory periods to get your debt as low as possible before the full rate kicks in. Transferring balances to a new card will not achieve anything if it just becomes another source of unpaid debt.
9. Maintain Healthy Habits
Enjoy the simplicity and peace of mind of paying a single credit card bill every month, and of steadily whittling down the debt you transferred to your new card. Stick to your budget and avoid fresh sources of debt. You'll soon see rewards in the form of more money in your pocket and a better credit score.
When Does a Balance Transfer Make Sense?
If you pay off or significantly reduce your balance every month and just want a better interest rate or a higher credit limit, then a balance transfer might be a good idea for you. If you want to consolidate several balances on a low-interest card to simplify your monthly payments, then that is probably a wise move too.
Be careful however if you are struggling to make payments on your existing cards or you have already maxed out your credit limit on one or more cards. In this case, you might be better off taking out a personal loan as part of a plan to control and pay down your debt over the long term.
The Signature Rewards Card From Listerhill
For responsible borrowers who want to access a better APR, higher credit limit, or more rewards, it's worth taking the time to find a balance transfer card that meets their specific needs. The Signature Rewards Card from Listerhill Credit Union offers our members permanent no-fee balance transfers and a host of other premium features, including:
No annual fee and, no cash advance fee
Competitive APRs
Unlimited 2% cash back on all purchases
Free travel and rental insurance
Manage your card with the LCU Cards App Powered by VISA®
Whether you are looking for an affordable card to help you simplify your financial life, a fully featured credit card to manage everyday spending, or you simply want to earn the cash back rewards and features you deserve—Listerhill's Signature Rewards Card is the ideal balance transfer card for you.
Click below to learn more.
Related Products / Services