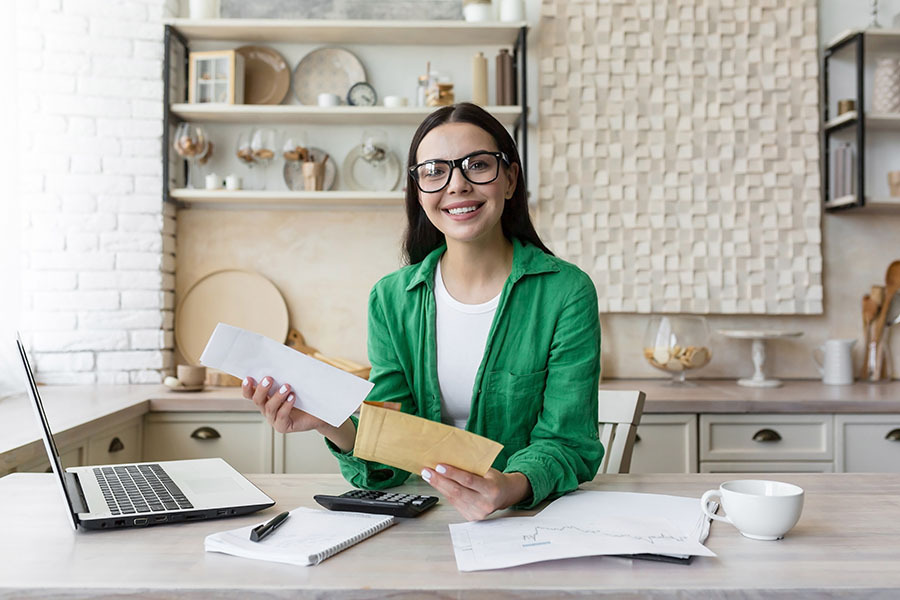 Benefits of Switching Your Checking Account to a Credit Union
Benefits of Switching Your Checking Account to a Credit Union
You may think that checking accounts are all built the same, with identical features and fees. But dig a little deeper, and you'll find there are advantages to credit union checking accounts that you can't get elsewhere.
Ask yourself: Do you pay a monthly account fee? Do you earn interest on your balance? Do you have access to online banking and mobile app services? Does your financial institution support your local community? Your answers here should be No, Yes, Yes, Yes.
If you're coming up with different answers, then it might be time to switch to a credit union! Read on to find out all the benefits of becoming a member and how to switch over your checking account.
What Are the Advantages of Credit Unions?
There are many ways that credit unions are different from traditional banks. When you join a credit union, you're a member—not a customer or just another account number.
Credit unions serve a particular community and share common values with their members. You can expect friendly, local service and even form lasting bonds with the people who work in your preferred branch.
Unlike banks that pay dividends to outside shareholders, credit unions are nonprofit cooperatives owned by their members. Revenue gets passed back to members in many ways, like through lower rates on loans, higher yields on savings, and fewer fees.
Benefits of Credit Union Checking Accounts
Checking accounts are the bread and butter of the financial world, so you want to make sure you have one that's exactly to your liking. Credit union checking accounts can offer all the benefits you've come to expect from traditional banks, and more, like:

No monthly account fees

No minimum balance requirement

Free 24/7 online and mobile banking

Advanced ATM services

Instant issue debit cards

Higher interest rates through interest-bearing checking accounts

Free checks

Account alerts

Quick, online account and loan applications
Benefits of Joining Listerhill Credit Union
As a full-service financial institution, we at Listerhill Credit Union work hard to ensure our members have the most up-to-date account management technologies available to them while also offering top notch checking accounts, savings accounts, and a range of loans, financing tools, and resources.
Checking Accounts
Whether you're needing a simple, flexible checking account for your everyday purchases, or are looking for short-term savings solutions, we have you covered. Our Everyday Checking account is our most popular account, and rightfully so. There's no minimum balance requirement and no monthly service charge.
Do you have short-term savings goals like building an emergency fund or saving for an upcoming vacation? Then our Growth Checking account may be the right choice for you. Similar to our Everyday Checking account, our Growth Checking account is easy to use but allows for unlimited, flexible access to your money unlike traditional savings accounts which typically have monthly transaction limits.
Related: How Much Money Should I Keep In My Checking Account?
Remote and On-The-Go-Banking
We know our members lead busy lives and cannot always make time to stop by one of our many branches. That's why we offer a host of remote and on-the-go digital banking solutions so that you never have to worry about having access to your money.
Online Banking gives you access to manage your accounts at any time from Listerhill.com. With Online Banking you can view detailed account history, access eStatements, transfer funds, pay bills or other people, and even budget your accounts from any financial institution.
On the go? Our Mobile Banking app and Smart ATMs allow you to access your Listerhill accounts to deposit checks, pay a bill, transfer funds, make a payment, or even purchase a cup of coffee—we've got you covered.
Loans
By being member-owned, we're able to return our earnings to our members in the form of higher rates on shares and lower rates on loans. Whether you're shopping for a car, a boat, or a home, we are here to help you find the best loan for you. You can even apply for or start your loan application online.
Switching to a Credit Union From Another Financial Institution
Ready to join and take advantage of all these great benefits and more? Listerhill has a simple way for you to switch to a credit union so you can save time and money. Simply click here to learn more about how to become a Listerhill member and join us today!

Related Products / Services