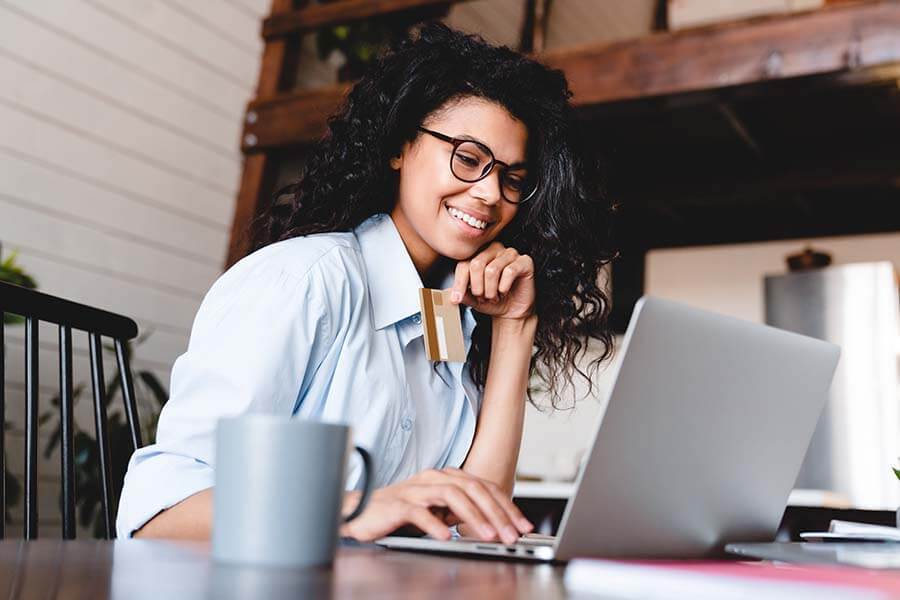 Should I Use My Credit Card for Everything?
Should I Use My Credit Card for Everything?
You may think it's best to only use your credit card for significant purchases or emergencies, but there are many benefits to using your credit card for everyday expenses. In fact, you can use your credit card to pay for just about anything.
Read on to find out how to use your credit card to your advantage and get simple answers to the question, "Should I use my credit card for everything?" We'll also go over general tips for using your credit card and habits you should avoid so you stay in great financial shape.
7 Reasons to Use a Credit Card for Daily Expenses
Your daily expenses may include things like groceries, gas, and utility bills. At the moment, you might be paying for these items with your debit card, a check, or cash. Here are a few reasons why you should consider switching to your credit card to cover your regular bills and costs.
1. Accepted Everywhere
For many vendors and companies, cash and checks are no longer the preferred methods of payment while credit cards are accepted in most places all around the world.
You can easily make credit card payments over the phone and can even link your card to your preferred mobile payment service, like Visa Checkout, Apple Pay, or Samsung Pay.
2. Safer to Carry and Use
But why should you use your credit card over your debit card? For one thing, credit cards have stronger fraud protections and many offer zero liability (or a maximum of $50 liability) when your card is used to make unauthorized purchases.
If you notice fraudulent activity, you simply report it to your credit card issuer and they can cancel your card and send you a new one right away. This process is more difficult with a debit card because it can take time to recoup the missing funds.
For added protection, you can link your credit card to the Listerhill Cards App. This lets you instantly turn your card off when you notice fraudulent activity.
3. Take the Stress Out of Travel
It's a good idea to let your credit card issuer know when you're traveling overseas so your purchases aren't blocked. Our Cards App makes this easy. Simply set travel notifications and you'll be able to use your card internationally.
Credit cards also provide some automatic travel insurance for flight cancellations and baggage insurance coverage in the event your luggage is lost in transit.
4. Earn Cash Back, Rewards, and Perks
Many credit cards offer the chance to earn cash back when you use your credit card to make certain purchases. You can get the cash credited to your credit card statement or deposited in your checking account.
While some credit cards offer cash back for different spending categories, like gas, groceries, and travel, Listerhill Credit Union's Signature Rewards Credit Card offers 2% cash back on all types of purchases. This means you don't need to change your spending habits to earn rewards.
Other credit cards offer points on purchases and you then redeem your points for rewards like hotels, flights, and merchandise. You also want to look for credit card perks including travel insurance, mobile phone insurance, extended warranties, purchase protections, and more.
5. Easy to Track Your Spending
Budgeting is the key to good financial health because it helps you spend within your means and avoid accruing excess debt. It's much easier to track your spending and stick to a budget when you make most of your purchases using one credit card. It's also easy to import your data to your favorite budgeting app and check your monthly eStatements.
If you use multiple checking and credit card accounts, you need to view multiple statements or import different sets of information to track your spending. If you pay by cash, there's no record except individual receipts. Checks can be even more difficult as it may take weeks for people to receive and cash them and your account is out of balance during that time.
6. Help Build Your Credit
Your credit card activity shows up on your credit reports from the three main credit bureaus so using your card is an easy and fast way to build your credit. Two of the biggest factors in determining your credit score are your repayment history and your credit utilization rate. If you use your credit card responsibly, your credit score will steadily improve.
Good credit is an advantage when it comes to buying a home, signing up for a utility, getting a mobile phone, insurance, and even a job. Here's how to build your score:
Make regular, small purchases.
Keep your balance low, using less than 30% of your available credit.
Pay your full balance on time, or more than your minimum due.
Listerhill's Platinum Card offers a simple way for you to build your credit because it has lower interest rates compared to other cards. Competitive rates mean more of your payment goes to your balance, and a lower debt-to-credit ratio boosts your score! This card is ideal for credit limits under $4,999.
7. Finance Large Purchases
In some cases, a large item like an appliance may come with in-store financing. But when no financing is available, a credit card offers a simple way to pay off a large, essential item at the competitive rate you got when you applied for the card. You can aim to pay off the item as quickly as possible, instead of being on a fixed repayment timeline like with a loan.
Tips for Using a Credit Card Responsibly
Credit cards offer many advantages as long as you use your card wisely. Here are a few simple do's and don'ts to keep in mind:

Always check the terms and conditions before you apply for a new card and start using it to make purchases. For example, your rate may jump if you miss even one payment.
Don't miss your payment due date since this can negatively affect your credit score.
Don't spend solely in pursuit of rewards as you may buy things you don't need, accrue excess debt, and use too much of your available credit.
If you carry a balance, make sure the interest paid doesn't outweigh the cash you earned back.
Don't apply for new credit cards simply for introductory rewards and offers since the new applications will show up on your credit report and may raise a red flag.
Don't use your card when you have to pay an additional processing fee, like in your local corner store or an independent retailer that you want to support.
Don't use your credit card to splurge on luxuries that you need to pay off over time. Whenever possible, save up the money to pay for those things with cash.
How to Use Credit Cards to Your Advantage
Here's the bottom line if you're still wondering, "Should I use my credit card for everything?" Credit cards are a convenient and safe way to pay for your daily expenses, allowing you to easily track your spending and build your credit score.
Our Signature Rewards Credit Card means you can earn 2% cash back on every purchase while enjoying benefits like stronger protections from fraud, Visa Alerts, Visa Checkout, and car rental insurance. Plus there's no monthly fee. Click below to see all the advantages!