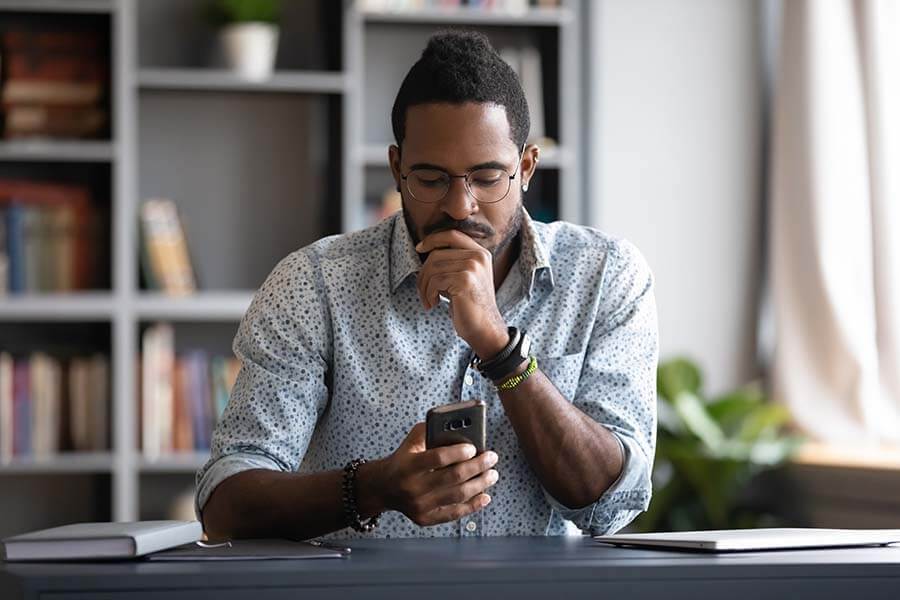 Cash App Pros and Cons
Cash App is a popular cash transfer app that also claims to offer many of the advantages of a traditional checking account. We take a look at the pros and cons of Cash App's offerings to see how it stacks up against a full-service credit union checking account.
Cash in Hand? Can Cash App Replace a Checking Account?
Cash App is one of a host of new peer-to-peer cash (P2P) transfer apps, including PayPal, Venmo, and Google Pay, that make it easier to exchange money, split expenses, and pay for things—all from your phone.
Cash App, which is backed by the Square payment network, allows you to receive direct deposits, pay bills, and even withdraw cash or pay in-store with a linked debit card.
Cash App Advantages
In fact, with no requirement that your account is linked to an existing personal account, Cash App appears to offer all the advantages of P2P cash transfers together with many of the benefits of a "traditional" checking account with a credit union or bank.
These advantages include:
Near instant payments to other Cash App users

Send or receive payments for free (within 1-3 business days)

Split bill function to share expenses among friends

Quick direct deposits (often in less than three days)

Free Cash Card debit card

ATM withdrawals

No account, maintenance, or annual fees

In-app bill pay

No-fee stock trades, buy and sell cryptocurrency
Cash App Disadvantages
While Cash App offers great convenience as a payments platform, it's worth taking a look at how its banking offerings stack up against a good full-service checking account.
Fees
Cash App doesn't charge on transfers to other account holders, but you will pay a fee of up to 1.75% to have a payment processed instantly and up to 3% to use a credit card to honor a payment, as well as for many ATM withdrawals.
By contrast, Listerhill Credit Union offers checking accounts with no annual fees or minimum balance, a free debit card, and no fees on any domestic financial transactions.
Payment Limits
Cash App initially limits the amount you can send and receive to $250 in a week and $1,000 per month, although you can increase this by going through an additional verification process. You can also not withdraw more than $1, 000 per week via an ATM or cash back using your debit card. You can also not receive more than $50,000 in weekly direct deposits.
While these figures may not be a problem if you're using Cash App for occasional payments, they can be a big obstacle if you are hoping to use it as a one-stop mobile banking service.

Limited Fraud Protection
Unlike traditional checking services, peer-to-peer platforms offer limited protection against payment errors or fraudulent transactions. In most cases you would need to rely on the honesty and goodwill of the parties you transact with. On the other hand, most traditional checking accounts allow you to dispute transactions and report fraudulent payments.
Deposits Not Insured
All deposits held at U.S. banks are insured by the Federal Deposit Insurance Corporation (FDIC) up to $250,000. By contrast, the balance of your Cash App account is not covered by the FDIC unless you also have a Cash App debit card, which is backed by the company's own partner banks.
Limited Access
While banking on your phone is fast and convenient, if this is your only touchpoint with your checking account, you risk being locked out of your money, potentially for days, by a minor issue such as a password failure. A traditional checking account offers you multiple ways to access your account, day or night.
No Interest
You're free to keep as much money as you want in your Cash App account, but you won't earn interest no matter how much you hold. By opting for a Growth Checking account at Listerhill Credit Union, you'll earn risk-free interest on deposits while maintaining full access to your money. You get all of the benefits and none of the risks.
Smart Transfers With Zelle
Despite the security offered by traditional checking, it's still hard to argue with the on-the-spot convenience of peer-to-peer payments. With this in mind, Listerhill has joined hundreds of banks and credit unions offering the Zelle payment service.
Zelle works from inside your existing mobile banking service, allowing you to make instant payments to any enrolled member using just an email address or mobile phone number. Why take a chance on risky peer-to-peer protocols while racking up high fees and extra charges? Zelle offers low fees, convenience, and the full security of the inter-bank settlement system.
All of the Benefits, None of the Risks
Listerhill Credit Union offers our members the confidence, security, and personal service you expect from a full-service checking account, together with the go-anywhere convenience of the Zelle instant payment platform.
Our Everyday Checking account offers unlimited access to your money with no annual fee or minimum balance, while our interest-earning Growth Checking account makes your hard-earned cash work for you! And, it all comes with great local service from our highly trained Member Advocates.
Click below to learn more.
Related Products / Services