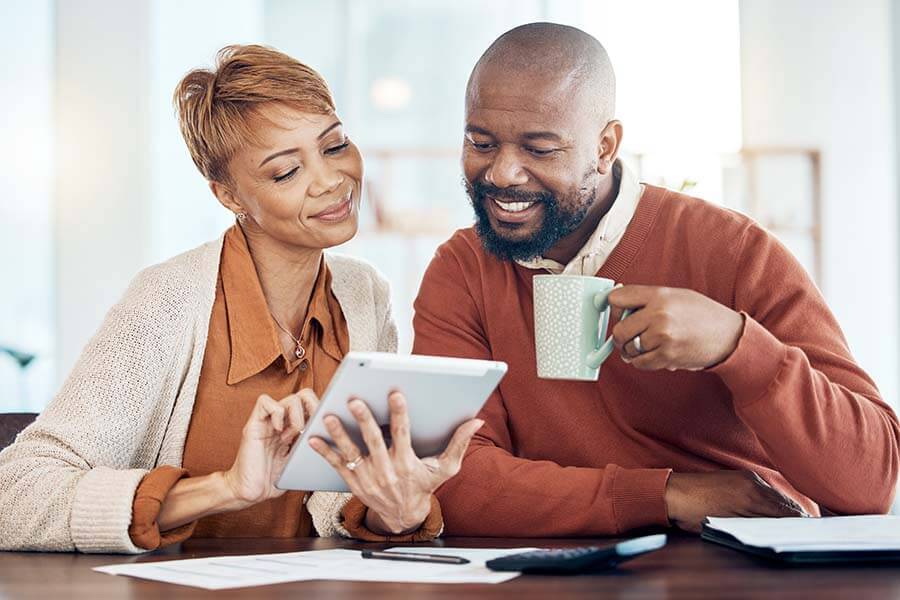 17 Essential Checking Account Features
17 Essential Checking Account Features
A checking account offers a simple way to handle your finances. You can easily receive your paycheck, shop with your debit card, pay your bills, transfer funds, and much more.
Our quick guide is here to explain all the features and benefits you should look for when choosing the best account for your needs and wants. Read on for our full list of checking account features!

1. No Monthly Fee
There are two easy ways you can avoid paying a monthly service charge on your checking account. First, you can choose a simple account like Listerhill Credit Union's Everyday Checking, which offers no monthly fee and no minimum balance.
Alternatively, you can choose a premium account like Growth Checking, which waives the $10 monthly fee as long as you keep your balance above $1,000. The choice is yours!
2. Earn Interest
If you want to earn interest on your balance, you'll need to choose a checking account that offers this special feature. Our Growth Checking Account offers generous rates on balances over $1,000.
3. Mobile and Online Banking
This is one of the most popular checking account features. You can use your smartphone, laptop, computer, or another favorite device to do your banking anytime, anywhere. Mobile and Online Banking have made everything simpler, faster, and more secure!
4. Direct Deposit
Cash and checks are quickly falling out of fashion. Nowadays, the easy way to receive your paycheck is by direct deposit. Simply give your employer your details and let technology deliver the money directly into your checking account!
5. Mobile Check Deposit
We know some people still prefer to pay by check, and that's why we offer this handy tool that lets you take a photo of your check and deposit the funds in your account—without visiting a branch!
6. Mobile Wallet
The latest mobile payment technology is here! Simply link your checking account debit card to Apple Pay, Samsung Pay, or Google Pay. Then you can use your phone to pay for goods and services in-store or click a button to pay online, wherever that payment method is accepted.
With a digital wallet, you don't need to carry your old leather wallet, cash, or even a debit card!

7. Bill Pay
Make sure your checking account offers free Bill Pay so you can easily manage all of your bills. Enter your payees' numbers once, then set up one-time or recurring payments so you never miss a due date!
8. Zelle
Use Zelle to quickly transfer money to friends, family, and other people. You can pay for your portion of a group dinner, buy goods, or pay for a service. It's fast, secure, and free!

9. Overdraft Protection
Did you know you can link your checking account to your savings account so you have overdraft coverage? We'll automatically transfer funds to cover checks and debit card transactions when you don't have enough money in your checking account.
11. Fee-Free ATMs
ATMs are the easiest way to withdraw cash, so you want to choose a checking account with plenty of fee-free ATM locations. These ATMs may belong to your own financial institution or can be part of a nationwide ATM network like CO-OP.
12. Smart ATMs
Get the best of both worlds when you use a Smart ATM. You can make deposits or loan payments, transfer funds, get exact change, and even speak to a live teller during business hours.
Using a smart ATM means you can complete transactions outside the usual branch hours but with the same personal touch.

13. Live Chat
There are times when you may need help but can't visit a branch or even make a phone call. That's when online Live Chat is your friend. Listerhill Credit Union offers this feature so you can chat with a friendly member services representative and get answers fast.
Once you pass the security questions, a rep can even see your screen and help you navigate Online Banking. Say no to automated chatbots and yes to Live Chat!
14. Instant-Issue Debit Cards
When you open a checking account, you should be able to get a free debit card printed on the spot. A debit card is an essential checking account feature and should come with the latest EMV chip security to give you greater protection against fraud.
15. Account Alerts
Another way to guard against fraud is to set up account alerts so you know if a charge is made at an unusual location or time, if it's for a large amount, or if the vendor seems suspicious.
16. Free eStatements
Gone are the days when you needed to balance a checkbook with paper and pen. Now, you can easily view and print current and previous account statements. Access your eStatements to check for unauthorized charges, track your spending habits, and more.
17. Easy Application
You should be able to open a checking account in less than 10 minutes, provided you meet the membership criteria. Using Online Banking, you just click the "Open an Account" button, enter a few details, and you'll be all set!
18. Friendly, Local Service
Now you know what to look for in a checking account but maybe you're not sure which financial institution to choose. Of course, you want quality financial products and personal service.
Listerhill Credit Union is a great choice because we exist to serve the members of our communities in Alabama, Georgia, Mississippi, Florida, and Tennessee.
Because we're not here to make maximum profit for outside shareholders, we care primarily about you and what you need. Best of all, we offer a choice of two quality checking accounts so you can get all the features you deserve!
Related Products / Services