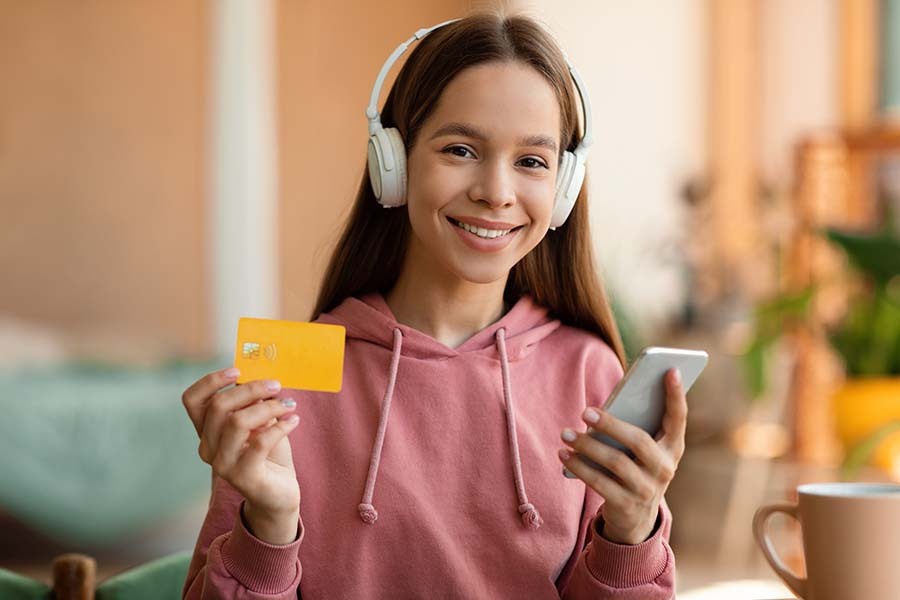 Why Everyday Checking Can Be a Smart Account for Teens
Why Everyday Checking Can Be a Smart Account for Teens
Being a teenager can be challenging enough without having to deal with a complicated checking account. That's why Listerhill Credit Union doesn't make teens open a special checking account with different rules.
Teens can enjoy all the benefits and features of a regular checking account. You can learn key skills to help you succeed while you're studying and when you start working. Read on to learn how Listerhill's Everyday Checking can set you up for a great future.
Build Money Management Skills With a Checking Account for Teens
It's never too early to start learning money management skills so you can enjoy the benefits of being financially secure in the future. The first lesson teens should learn is that you can't spend more than you have. Learning this essential lesson early may help you avoid a lifetime of debt.
With a checking account, you can deposit your money and decide when and how you spend it. You can also choose to allocate a certain amount of your funds to different purposes.
For example, some people like the Spend, Save, Share rule:

Allow yourself to spend a certain percentage of the money you receive.
Save a portion of any money you get—10% is a common amount.
Share or donate a percentage or fixed amount to your favorite charities or people in need. (Which could include a friend who forgot their wallet!)
Learn About Budgeting and Financial Tools
When you're a teen, you're most likely living at home with your parents and you may or may not have a part-time job. This is a great time to start thinking about how to manage a budget when you eventually work full-time and pay rent.
Budgeting is crucial when you're a college student and live away from home with a limited income. Here's how a checking account for teens can help you:

Deposit money you get from your parents or a part-time job or set up a direct deposit to receive your paycheck directly from an employer.
Add up all your expenses. If you live at home, this could be gas to use your parents' car or to pay your mobile phone bill.
Make sure you have enough money to pay your expenses before you think about spending any money.
See how much you have left over then decide how you want to spend it or if you want to save it for something specific in the future.
To help you budget, you can use Online and Mobile Banking to easily check your balance and transfer funds. You can also download a range of fun financial apps.
Use Direct Deposit, Bill Pay, and Transfer Features
A checking account for teens makes it easy to manage money coming into your account and offers a range of ways to send money out of your account.

Set up direct deposits to receive your paycheck from a part-time job.
Use the Bill Pay feature to pay regular expenses, like your mobile phone.
Transfer money into your other accounts, like savings.
Use Zelle to transfer money to friends and family—all you need is a name, phone number, or email address.
Explore Ways to Access and Manage Your Money
Nowadays, there are many ways to access and transfer your money. Therefore it's a good idea to learn them all so you can handle any payment method you come across.

Online and Mobile Banking offer simple transfers
ATMs let you withdraw cash and some machines let you make deposits
Smart ATMs let you complete a wider range of transactions and you can even connect with a live teller during business hours
Checks may seem like a thing of the past but they're still a common payment method for many services.
Get Fast Answers Through Live Chat
Most teens love technology but maybe you're not impressed by Chat Bots that can only provide answers from pre-programmed options.
Luckily, the Listerhill Credit Union checking account for teens offers a Live Chat feature where you can get all the help you need without visiting a branch or picking up the phone. Simply answer the security questions and a member service representative can even share your screen and guide you through Online Banking.
Why Choose Your Local Credit Union for a Checking Account for Teens?
Not all checking accounts are created equal and that's why you want to do your research and make sure you're getting the most out of your first steps into the financial world. Here's how you can benefit when you choose Listerhill Credit Union for your checking account for teens:

No minimum balance
No monthly fee
Local branches and ATMs
24/7 Online and Mobile Banking
NCUA insured up to $250,000
Supports your school and community
Click below to learn more about the benefits and features of our checking account that's ideal for both teens and adults.
Related Products / Services