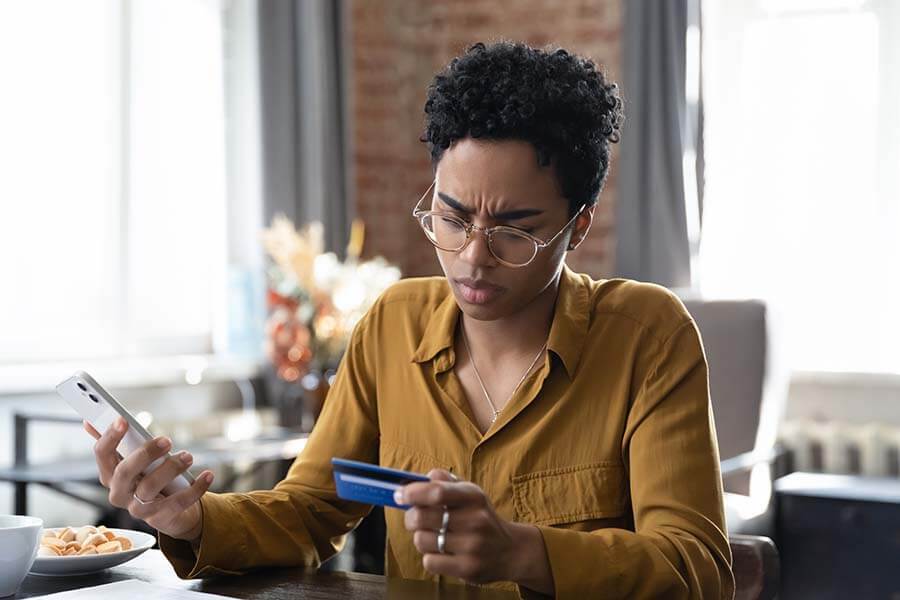 Tips for Preventing Checking Account & Debit Card Fraud
Tips for Preventing Checking Account & Debit Card Fraud
Debit card fraud is increasing even as banks and credit unions step up checking account fraud protections. Let's look at some common-sense bank account security precautions that are easy to implement and can significantly reduce your chance of falling victim to fraud.
Safe Bets: 13 Ways to Beat Checking Account & Debit Card Fraud
Fraudsters attempted to steal $25.1 billion from U.S. bank deposit accounts in 2018, mainly by using compromised debit card details to tap checking account balances. While banks and credit unions are working hard to keep your money safe, there's a lot you can do to keep your debit card and checking details out of the wrong hands.
Take the following steps to stay safe online, protect your card and financial documents, and make the most of the protections your bank already offers.
1. Use a Complex, Unique Password for Every Account
That's right—every account. While it will take a little longer to set up online accounts, passwords are your frontline defense against almost all online fraud. Use a reputable password manager to help you generate complex passwords and store them in a single handy "password wallet."
2. Use Two-Step Authentication
Two-step authentication adds an extra layer of security to your account, making it many times more difficult to hack. It takes a little effort to develop the two-step habit, but by doing so you're taking your information out of reach to all but the most determined identity thieves.
3. Avoid Public Wi-Fi
Public wi-fi systems are widely available and easily accessible, but be cautious about using them for online purchases, banking transactions, or sharing sensitive information. It's easy for criminals to intercept passwords and card or account numbers on unsecured networks.
4. Watch Out for Bogus Websites
Whenever you pay or move money online, make sure you're using the website belonging to the merchant or financial institution you are working with. Watch out for fake links sent to you in bogus emails, and always look for a small lock or shield next to the URL in your browser.
5. Keep Your Device and Software Up to Date
Make sure your phone, tablet, and computer have the latest version of the operating system, plus any security patches installed to prevent malware from being placed on your device. Also, make sure you have the latest version of any downloaded banking or financial management software.
6. Don't Save Your Credit Card Number
Avoid the temptation to save your credit card details on sites you might use regularly. It increased your exposure to hacking. Many password managers will also save your card details so you can quickly transfer these when you're ready to make a payment
7. Keep Your Card Safe
The best password or encryption will not protect you if criminals get hold of your actual card. Keep your card in a secure wallet or purse. Better still, consider using a mobile wallet system which will have even stronger protection against thievery and fraud.
8. Run Your Debit Transactions as Credit
While it might mean having to sign more slips, choosing to process more of your transactions as credit avoids exposing your PIN and means you'll receive a higher level of fraud protection from the big credit card companies.
9. Watch for Card Skimmers
Keep an eye out for card skimmers attached to card payment points, including ATMs and gas stations. Avoid payment locations in remote or out-of-the-way places and try to use in-network ATMs rather than third-party machines for cash withdrawals.
10. Secure Your Documents
Your account statements, bills, and receipts offer a rich trove of information for identity thieves. Make their task far harder by installing a locking mailbox and shredding financial documents.
11. Check Your Statement
Try to monitor your checking account statement for fraudulent or unauthorized transactions every month. It's also a great way to spot charges for subscriptions or services you no longer use.
12. Set Up Alerts
Many banks and credit unions allow you to receive activity alerts linked to your checking account. For example, Listerhill Credit Union allows checking account holders to monitor balances, track deposits, and receive notifications of debit card transactions via text or email.
13. Know Who Has Access to Your Account
Limit who has direct access to your account. Avoid setting up direct debit accounts with utilities or other regular payees. Rather use your bank's own online bill pay function.
What to Do If You Suspect Fraud
If you do suspect that your debit card has been lost or stolen or your personal information has been compromised, it's important to act quickly to limit the damage.
Contact your bank immediately to stop your cards and limit access to your account. Provided you act quickly, you won't be held responsible for fraudulent transactions.
Write a letter explaining when and how the unauthorized activity took place. This can be important if there is any dispute over the fraudulent transactions.
Check your credit report for unauthorized account openings or loan applications and contact the credit bureaus to limit potential long-term damage to your finances.
Contact merchants about fraudulent transactions using your card. While they might not do anything, this helps prove you are not responsible for the fraudulent transactions.
Listerhill Credit Union: Your Safe Checking Choice
Listerhill Credit Union's full-service checking accounts offer flexible, convenient access to your money while helping to keep your hard-earned cash safe. The LCU Cards App will help you manage your free Listerhill VISA® debit card and protect your account by allowing you to:
Instantly lock your card
Report cards as lost or stolen
View pending or recent transactions
Dispute charges
Set spending alerts
Set travel notifications
Whether you choose our low-cost Everyday Checking or interest-earning Growth Checking account, you can be sure your money is in safe hands. Click below to learn more about the benefits of opening a Listerhill checking account today.
Related Products / Services