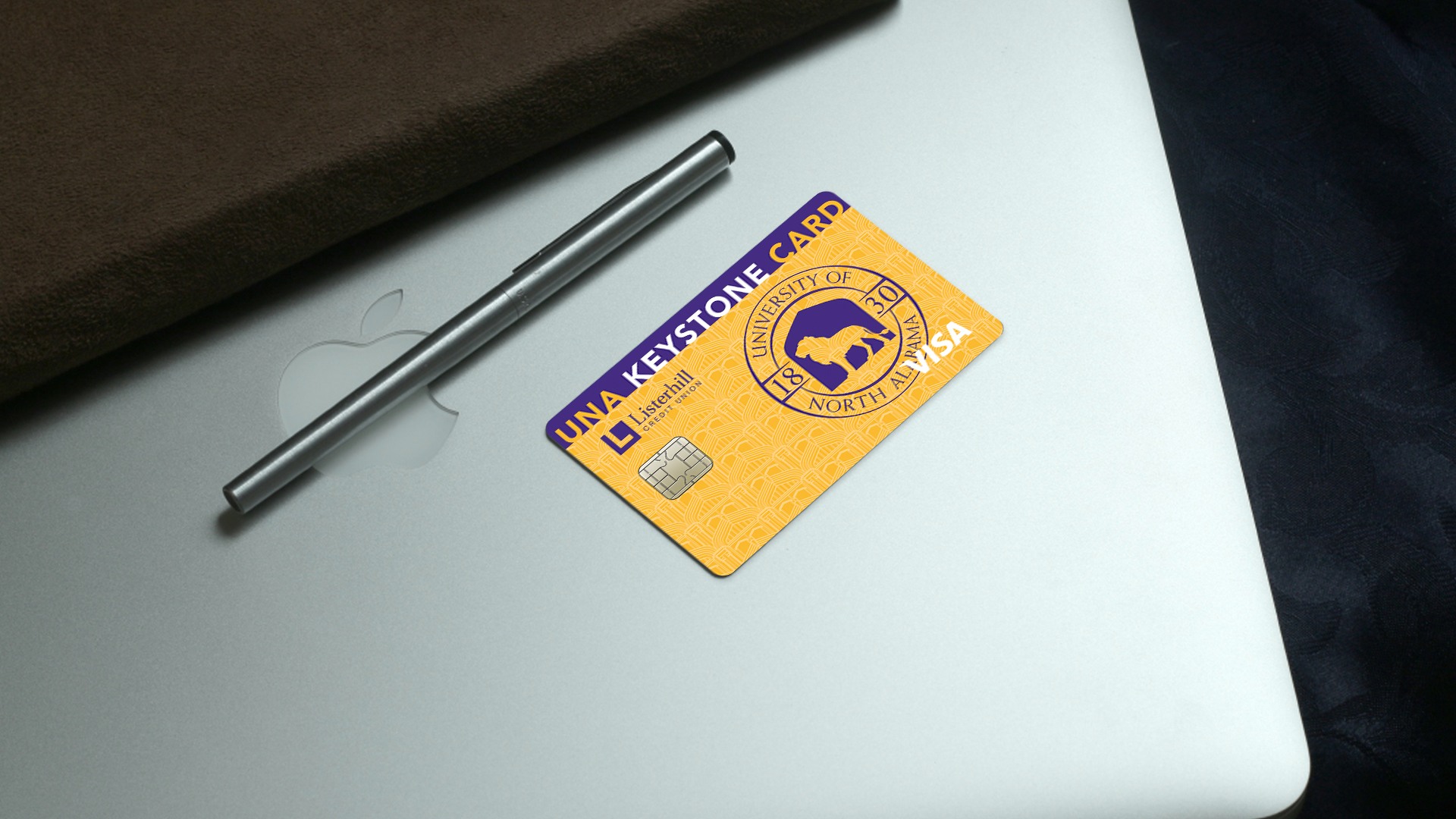 UNA Keystone Debit Card FAQs
Get all the questions you probably have about the Keystone Debit Card answered here!
Listerhill Credit Union's Keystone Debit Card is the perfect accompaniment to any UNA college student's wallet (and not just students — alumni and community members, too!).
Continue reading to learn more about this unique university debit card that gives back, whether you're a young adult learning to spend and save responsibly, or a veteran shopper and saver.
What's the difference between a UNA Keystone Debit Card and a credit card?
Unlike a credit card, a debit card automatically withdraws funds from your checking account. Use it like a credit card anywhere Visa is accepted.
What are some features of a Listerhill checking account?
Listerhill offers two types of checking accounts, Everyday Checking and Growth Checking.
Everyday Checking
No minimum balance or monthly service charge

3 annual overdraft refunds

FREE Visa debit card
Growth Checking
No transaction limits

One account allows you to spend and save, earning higher returns than traditional checking accounts

No service charge for balances over $1,000

Unlimited check writing

FREE Visa debit card
How do chip cards work?
A chip card features an embedded microchip as well as a magnetic strip. This is a security feature that encrypts your information at chip-enabled ATMs and point-of-sale terminals.
How do I order a debit card?
You have several options to order a debit ATM card.
Order online
Whether ordering a new card or requesting a replacement, join or log in to order your card through online banking.
Order in-person
Stop by The Hill, our full-service branch designed specifically for college students, located in The Commons on the UNA campus.
Not only can you order a card, but you can also open a bank account, withdraw cash, make a deposit, or speak with member services. Other services and amenities at our campus location include:

Deposit-accepting ATM

Instant debit card issue

Charging bar

Member lending
You can also stop by any of our branch locations throughout south central Tennessee and northwest Alabama.
How do I activate my debit card?
You can activate your card online or through our mobile app.
Or, you can simply swipe your card and use your PIN on your first purchase to automatically activate.
Where does the money donated to UNA go/what does it support?
With each UNA Keystone Debit Card transaction we donate a portion of the purchase back to the University of North Alabama's alumni, athletics, and advancement programs.
I'm not a student. Does this card work on- and off-campus?
Yes, you can use your UNA Keystone debit card on- and off-campus.
How quickly can I get my debit card?
Immediately when visiting one of our branch locations! We offer instant-issue debit cards at every location. This is great for current members who wish to trade-in their classic Listerhill debit card for the new UNA Keystone Debit Card.
If you open a new checking account online, please allow 4-6 business days for your card to arrive by mail.
You can also access a temporary card on your mobile device through Apple Pay and Google Pay on your digital wallet by using our mobile app.
Can I set up alerts?
Get important account information sent to you through our Notify Me text or email alerts. Alerts can include letting you know when a check clears, if you have a low account balance, and more.
What do I do if my card is lost or stolen?
If you have lost your card or suspect that it has been stolen, please call us at 1-888-918-7819.
Do I need to be a Listerhill member to get a UNA Keystone Debit Card?
You must be a member of Listerhill Credit Union to take advantage of our products and services.
There are many benefits to joining a credit union, since, unlike large for-profit financial institutions, credit unions are nonprofit, member-owned, and based in the community.
Listerhill membership benefits include:

Financial wellness education and financial planning

Competitive interest rates on loans and dividends on savings accounts

Personalized member service
Who is eligible to become a Listerhill member?
Listerhill membership is open to anyone who lives, works, or goes to school in a county that Listerhill Credit Union serves, you work for a member company, or are related to someone who does. Find out more about joining Listerhill Credit Union.

Don't Have The Card Yet? Get It Here.