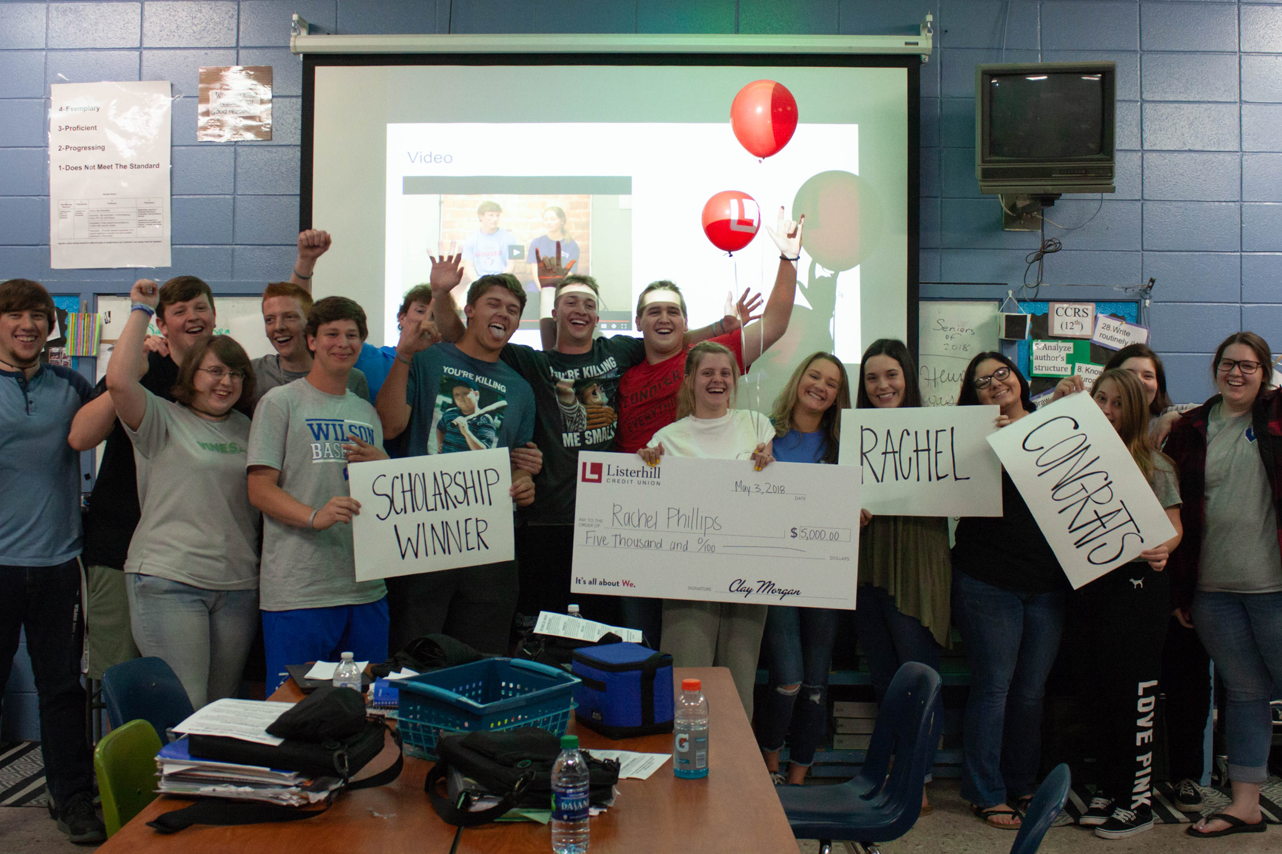 2018 Listerhill Scholarship Contest
Our 2018 Listerhill Scholarship Winners are...
Our 2018 Scholarship Contest Recap
This year's 2018 Scholarship Contest was incredible! We visited 22 schools in northwest Alabama and south central Tennessee with our video booth and we asked students to record a 30-second video about how their education will benefit their community. We recorded 195 student videos and learned how passionate students are about investing in their community and making the world a better place. Although we had so many great entries, we could only have three winners and they are Rachel Phillips, Sara Beth Searcy, and Sarah Cobb! We couldn't be happier for them and we can't wait to see what great things they do next. Congratulations!
Students, friends, and family members were able to vote for their favorite videos during the last week of April and the student with the highest number of votes from each participating school won an Amazon Echo Dot. So much hard work and creativity was put into these videos and we are so proud of these students.
Check out these comments from this year's first place winner, Rachel Phillips, and a participating couselor from Wilson High School, Keith Hurston.
"I saw this scholarship contest as an opportunity to share the passion and desire God has placed in my heart with others, so I did the video with no clue as to how it would turn out. It was definitely not what I expected, in a great way." - Rachel Phillips, Listerhill Scholarship Contest $5,000 Winner
"The Listerhill video contest is an exciting way for students to express their goals and ambitions. The video contest allows the students to incorporate their creative spirit in describing how education will help them reach their goals." - Keith Hurston, Wilson High School Counselor
Thank you to everyone who participated this year. We couldn't have done this without you. Looking forward to seeing our next group of students in 2019!
2018 Scholarship Announcement from Listerhill Credit Union on Vimeo.
Rachel Phillips - $5,000 Scholarship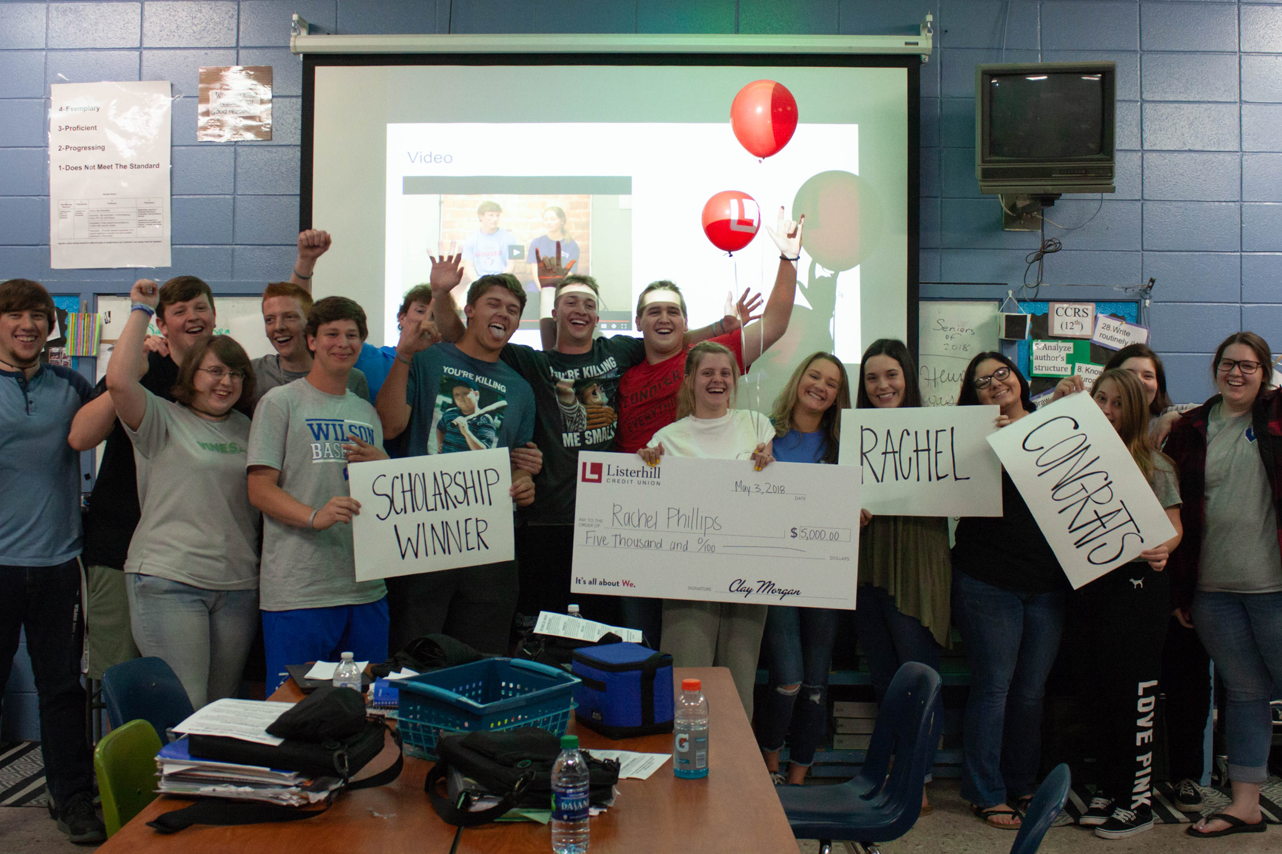 Sara Beth Searcy - $2,500 Scholarship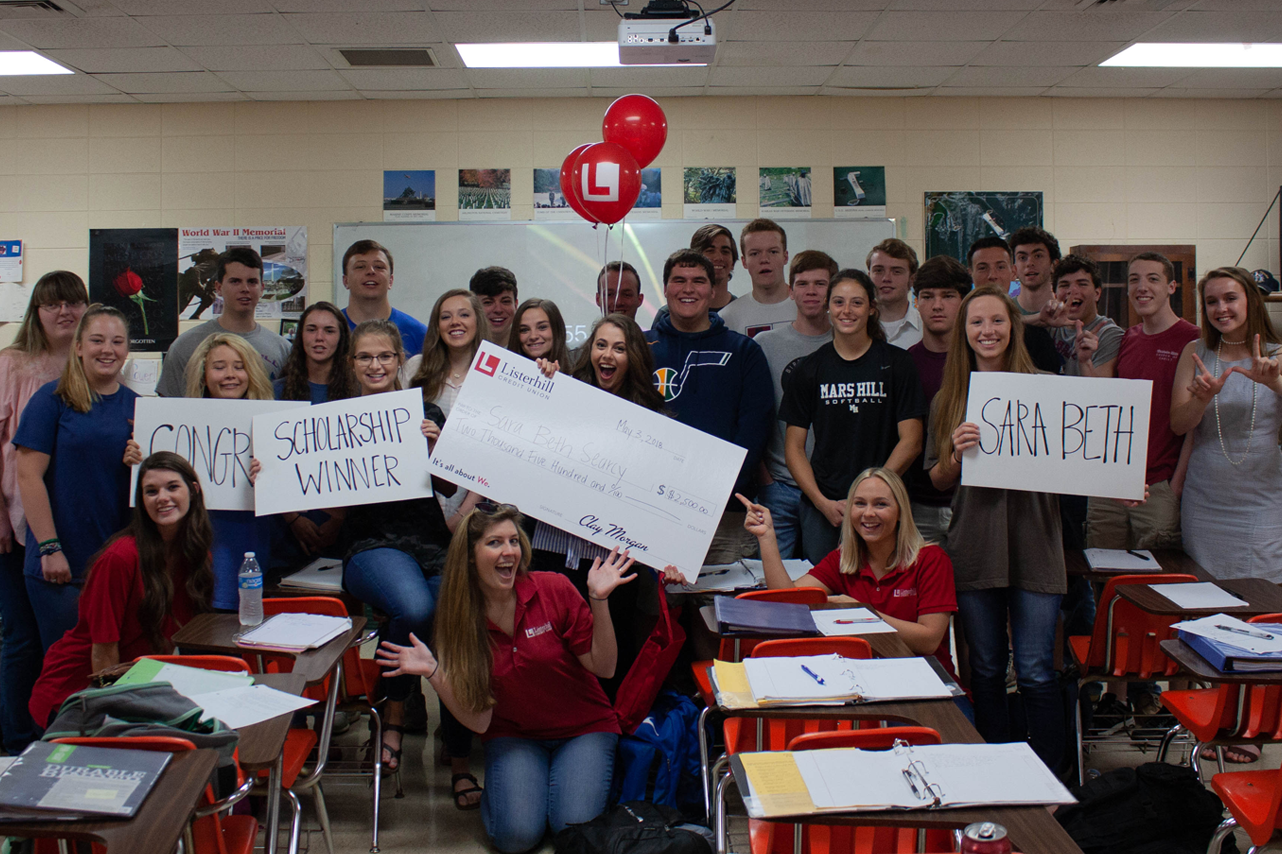 Sarah Cobb - $2,500 Scholarship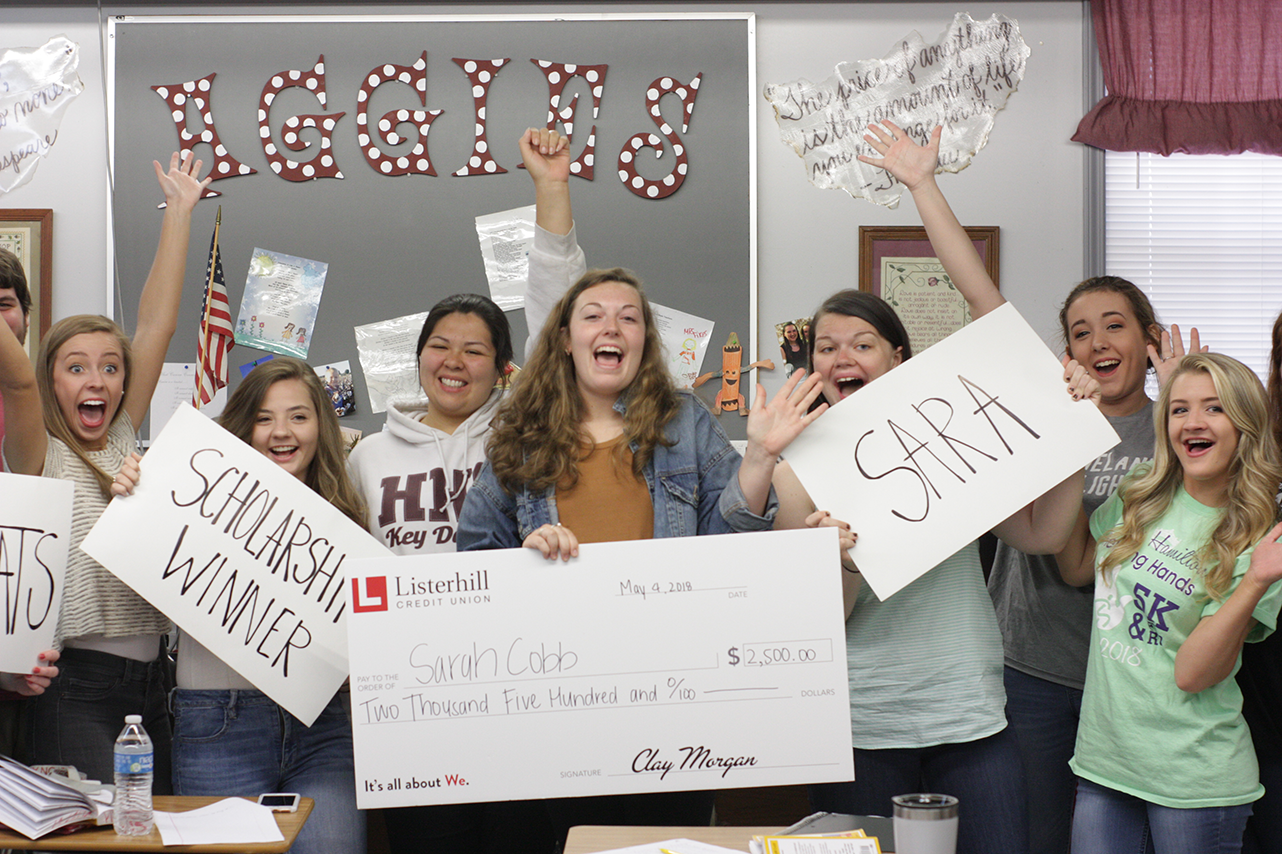 You all did an incredible job and we cannot wait to see what you do for your community in the future! Thank you so much for sharing your stories with us and thank you to everyone who participated in the 2018 Listerhill Scholarship Contest.
You have voted and the winners of the Amazon Echo Dots are...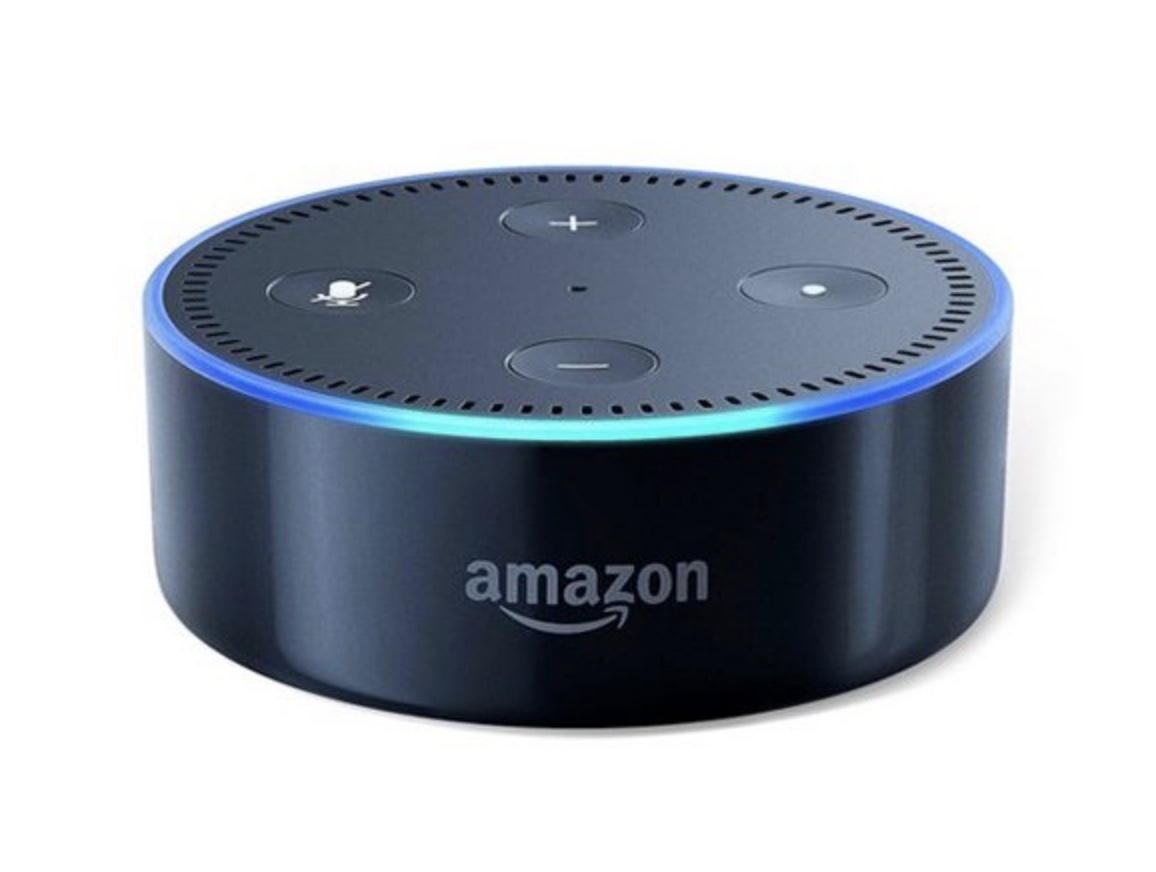 Emee Baldwin from Addison high School
Hayden Bryant from Brilliant High School
Callie Burbank from Brooks High School
Isabella Morrow from Central High School
Chloe Henson from Colbert Heights High School
Hayden Lee from Collinwood High School
Mason Aldridge from Fayette County High School
Allison Carter from Florence High School
Kaley Stevens from Haleyville High School
Sarah Cobb from Hamilton High School
Cameron Troutman from Hampshire High School
Anna Eledge from Lawrence County High School
Seth Jacobs from Mars Hill Bible School
Bayli Fox from Muscle Shoals High School
Austin Green from Rogers High School
Ra'lexus Smith from Russellville High School
Ced Carrol from Sheffield High School
Lela Manis from Spring Hill High School
Michaela Springer from the University of North Alabama
Justin Hoffman from Vinemont High School
Mary Beth Dixon from Wilson High School
Miranda Hunter from Zion Christian Academy